I've actually been putting off showing this. The reason was simple: I wanted to show it on my vlog then share here. But since I still have many backlogs there on YouTube, I thought, why the heck not share it now, right? So, a bit of a background…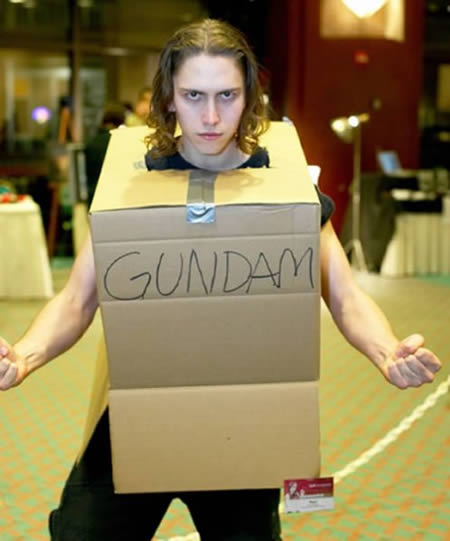 Our cosplay theme for Christmas 2018 was 'boxed anime/cartoon character'. I did some digging to make sure I understood what to do. Apparently, the box or cardboard idea has its own history and it has to do with this guy –>
This was Paul M. Palgen wearing his "epic fail" costume, now known as the Cardboard Box Gundam, back in 2003 at the Anime Central (ACEN) convention. As explained in KnowYourMeme.com (because indeed, it became a popular meme after):
"Paul's costume of Zack from Final Fantasy VII had become unusable only days before the Rosemont convention…Not wanting to attend the convention without a costume, he asked his sister what he should do. She said, 'Nobody's going to care. Just wear a cardboard box and say you're a Gundam.' "
And the rest is meme-worthy history! Yes, it became a thing, spawning parodies and tributes. Who would've thought?
Okay, history lesson done. On to my real topic.
The instruction/requirement was to make sure to use a square box to cover the trunk of the wearer's body. Then we were free to do whatever with the whole look. For some reason, the first thing that came to my mind was to make a ninja turtle costume for myself. It must have been because of the turtle shell that gave me an idea. Besides, it was a long-time coming. I had always wanted to make one. If you don't know or haven't read about it yet, the Teenage Mutant Ninja Turtles hold a special place in my heart.
See my favorite Michelangelo? That's me.
I know, I know, the colors were not all in the same shade (I had to make do with my resources), but I did my best. In fact, I think I did a good enough job, at least.
Now, how did I make my costume? My Internet search wasn't such a big help — some were too simple that I didn't like them; others were too elaborate and costly for me. I don't think I saw a boxed ninja turtle even. Therefore, I thought of 95% of this costume myself.
Below is HOW TO MAKE A (BOXED) NINJA TURTLE COSTUME…Well, my way. I am sharing this "infographic" that I shared to my friends. If the words are too small, just do a right-click, click on "View Image", and voila! Still too small? Press CTRL then the plus (+) sign several times until the desired size.
So how did you find it? Of course, again, these are just my own ideas. There are various ways to make a TMNT costume. But if you want to use my ideas, feel free to do so. Meanwhile, I will share the how-to video once I'm actually done with it.
COWABUNGA!!!